Description
| | |
| --- | --- |
| Product Name: | Large diameter welded steel pipe |
| Thickness: | 4 – 85 mm or as customer request |
| Outer Diameter: | 400 – 1600 mm or as customer request |
| Wall Thickness: | 3mm-65mm or as customer request |
| Usage: | Fluid use (transport oil, gas, water etc) |
| Technique: | SAW |
| Surface treatment: | Paint oil or brush varnish/paint. |
| Main Material: | ASTM A 53, A106; Q195-Q235, 20#, Q125, Q345 (B, C), L175-L555 (A, B, X42-X80), J55, K55, N80, L80, C90, C95, P110 etc |
| Length: | 1-13 meter/pc or as customer request |
Large diameter steel pipe plays an important role in oil and gas transmissions. It used a lot for long distances pipeline projects, since it could carry more liquid and with big flow rate. Especially for recent years, the use of large diameter steel pipe is increasing.
When we talking about large diameters pipe, It usually refers to the pipe in welded like LSAW pipe or SSAW pipe; More over, it also includes large diameter seamless pipe in some circumstances.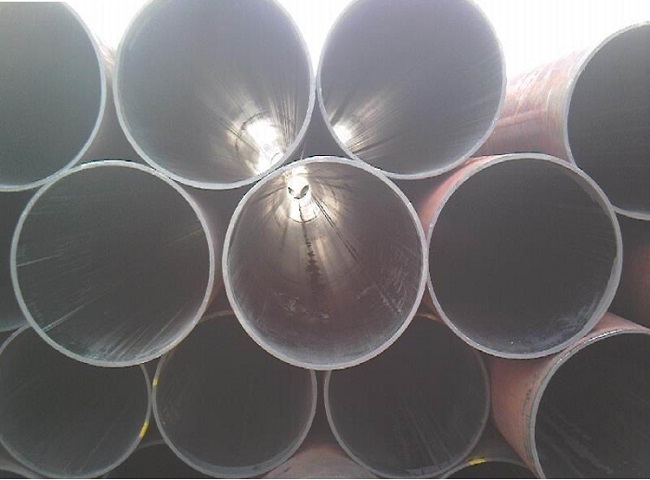 The characteristics of large diameter construction welded steel pipe:
1. Adopt the process of fine welding after pre-welding, with stable welding process and high weld quality.
2. The welding seam is easy to realize nondestructive inspection in the production process and nondestructive inspection in the field during use.
3. Wide range of product specifications, can produce small diameter, large wall thickness, but also can produce large diameter, large wall thickness of steel pipe.
4. The steel pipe has a longitudinal weld, and the internal and external welds are welded by a submerged arc welding.
5. After the overall mechanical reaming treatment, the internal stress of the steel tube is small and evenly distributed, which can effectively prevent the stress corrosion cracking, with high dimensional accuracy, and facilitate the on-site welding construction.