Description
| | |
| --- | --- |
| Surface | Black, Galvanized Painted, or as your request. |
| Technique | Hot Rollled |
| Item Shape | Equal(L-Angle), Unequal |
| Tolerance | Angle Steel Thickness Tolerance: +0.5%-1% Item Length Tolerance: +0.125/-0 inches |
| Brand Name | Sino East Steel |
| Place of Origin | Tianjin, China |
| Payment | L/C , T/T |
Steel is an iron alloy with carbon and other elements that modify the steel to achieve specific properties. In general, steels with higher carbon content have greater strength, hardness, and wear resistance, while those with lower carbon content have more formability, weldability, and toughness. Carbon steels, which include most AISI-SAE grades in the 1000 range, are classified by their level of carbon content as low (below 0.3%), medium (0.3% to 0.6%) and high (0.6% and above). Alloy steels, which include AISI-SAE grades in the 1300 and 4000 ranges and above, incorporate elements such as chromium, molybdenum, and nickel to modify properties like machinability and corrosion resistance. Tool steels, which include most grades with a letter and number grade designation, have high carbide content for wear resistance, high hardness, and the ability to hold a cutting edge. Some tool steels are designed to resist deformation when used in elevated temperatures.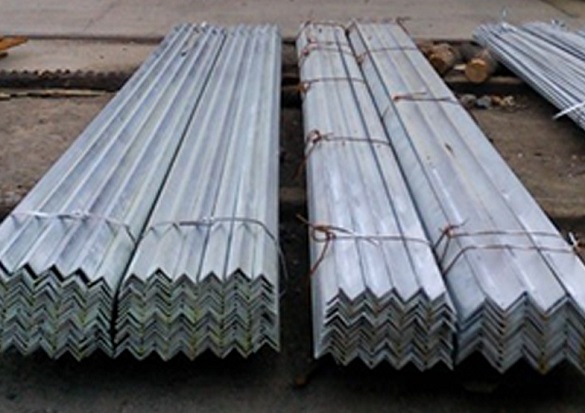 Types and specifications of angle steel:
It is mainly divided into two types: equilateral angle steel and unequal angle steel, among which unequal angle steel can be divided into two types: unequal equilateral thickness and unequal unequal thickness.
The specifications of angle steel are expressed by the dimensions of side length and side thickness. At present, the specifications of domestic angle steel are 2-20, and the number of centimeters of the side is used as the number. The same angle steel often has 2-7 different side thicknesses. Generally, the side angle of more than 12.5cm is large angle steel, the range of 12.5cm-5cm is medium angle steel, and the side length of less than 5cm is small angle steel.
The order of import and export angle iron for sale is generally based on the specifications required in use, and the steel grade is the corresponding carbon steel grade. It is also that the angle steel has no specific composition and performance series except the specification number.
The section height of unequal angle steel is calculated according to the long side width of unequal angle steel. Refers to steel with an angular section and unequal lengths on both sides. It is a kind of angle steel. Widely used in various metal structures, bridges, machinery manufacturing and shipbuilding, various building structures and engineering structures, such as house beams, bridges, transmission towers, lifting and transportation machinery, ships, industrial furnaces, reaction towers, container racks and warehouses.
If you want to know more about 2 inch by 2 inch angle iron or our factory,you can send us a message to us, you will get best satisfy answer.